In honour of Australia Day, we'd love to talk about Australian Bush Flower Essences – one of our favourite healing product ranges!
You've probably seen or heard the name Australian Bush Flower Essences, but perhaps don't really know what they are about.  If you've been wondering about them, then we have a handy introduction and guide for you.
For thousands of years, throughout the world, plant essences have been used to help facilitate healing and wellbeing.  Australian Bush Flower Essences are a branch of this modality, unique to Australian flora and history.
What are Australian Bush Flower Essences?
Firstly, we need to look at what an essence actually is!  The essence of a plant means that it has been gently extracted, resulting in a healing elixir.  You can use this as a tincture (or drops), as a spray, or in massage oils and beauty products.
One of the great things about Australian Bush Flower Essences is their safety – even children and animals can reap the benefits!
What is the history of Australian Bush Flower Essences?
These restorative essences were created by Naturopath and Homeopath Ian White.  Being a 5th generation herbalist with nearly 4 decades of clinical experience, Ian was raised in the bush and really was born to work with the amazing healing power of native Australian plants.
Where do they come from?
If you could mark the most mystical and best-preserved natural regions of the Australian landscape, you'll most likely discover most of the sources of Australian Bush Flower Essences.  From The Kimberleys, Northern Territory wetlands and Kakadu, to the Olgas, Victorian headlands and Sydney sandstone regions, our rich and diverse native plant life holds magic that we can tap into.
How do they work?
Australian Bush Flower Essences fundamentally work on harmonising us at an emotional level.  Imagine being able to release unproductive or negative subconscious patterns and beliefs, or balancing our emotions so that we are in harmony again… all with the aid of the amazing world of flora.
When the essence of a bush flower or plant is extracted, that wonderful drop is imprinted with the plant's unique vibration – much like our own fingerprint or frequency.  It is then blended into a carrier solution of water and alcohol.
How do you use Australian Bush Flower Essences?
This is where these little vials of magic get really exciting!  Australian Bush Flower Essences can be used as a stand-alone remedy or support, kept in the medicine cabinet to help with chronic issues or stashed in your bag as a pick-me-up when the going gets tough. 
Used in massage and facial products, they can add a new dimension to other healing modalities.  At Floating Cloud Therapies, we regularly add these essences to massage or Reiki sessions to amplify the healing effects.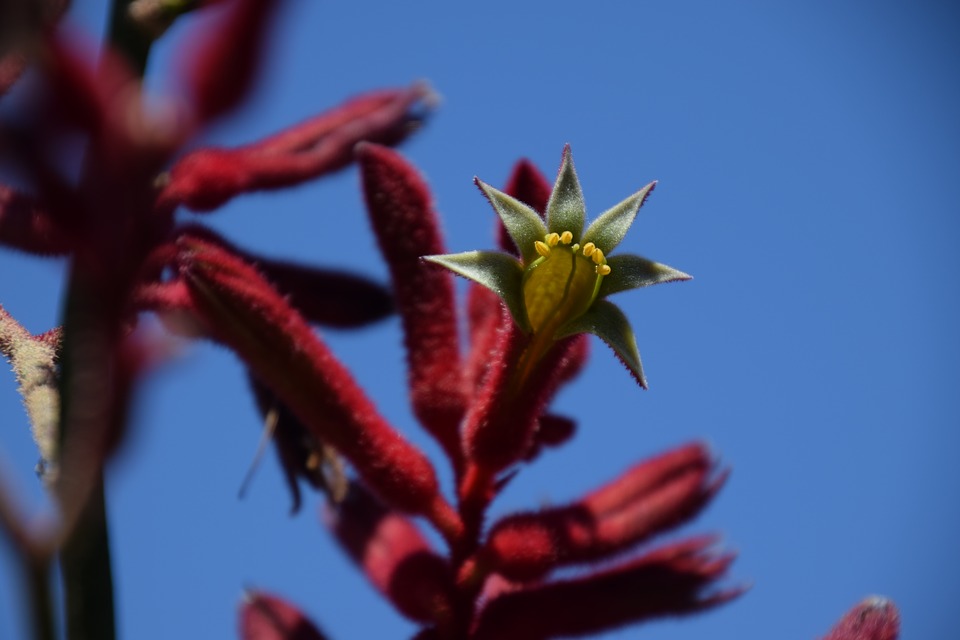 What sort of products are available?
With about 70 different solutions and essences available, there really is something for everyone.  If you are after an idea of the types of blends or products available, here are some of our favourites:
Emergency Essence
Feeling anxious, overwhelmed or nervous?  Bring some calm back into your day – with Emergency Essence.  Use it for balance in times of distress, panic or anxiety.  Whether it is school and exams, school holiday madness or periods of emotional struggle… keep this on hand in times of high-level, acute or chronic stress.
Kangaroo Paw Essence
For those who are self-conscious in crowds, feel socially awkward or anxious, or feel they have perpetual foot-in-mouth disease, Kangaroo Paw Essence is just the thing!  When things get overwhelming, it is easy to feel disconnected and lose sight of who we are in our social and family circles.  Let this essence help you reconnect to those around you in a harmonising way, building bridges with empathy and love. 
Little Flannel Flower Essence
It is normal to sometimes feel we are drowning in the seriousness of life, but when the sombre moments overshadow the joyful, we need to stop and restore the balance.  There are times when we need to be serious and focussed, but in this modern world it seems it happens way too often!  Little Flannel Flower Essence is the perfect support if you want to bring some playfulness back into your life!  Tap into your inner child, lift the weight from your shoulders and be the fun parent, friend, son, daughter or sibling you really want to be.  Life is too precious to take it seriously all the time – we all need joy in our lives on a daily basis!
Body Love
One of our most popular – and adored – products, Body Love is something that is needed by so many.  The lack of body acceptance, and the struggle to love the physical body, has reached epidemic levels in our modern world.  Faced with unrealistic impressions of the human body as well as social and personal pressures to fit the mould, everyone can do with some body love.  This is a wonderful gift for the women in your life who have trouble seeing their beauty, especially teenage daughters and new mothers!
At Floating Cloud Therapies, we are such big fans of Australian Bush Flower Essences that we stock the entire range so that it is available for everyone.  If you'd like more information about these magnificent healing elixirs, or any of our nurturing therapies, get in touch with us today.